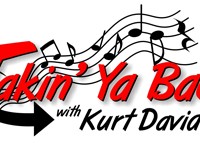 "Takin' Ya Back" with Kurt David
Join Kurt David as he Takes Ya Back to the Sixties, Seventies and Eighties. Each hourly program specializes on a decade and the whole hour is linked by a common theme. Hear great classic oldies and some of those that you may have forgotten. Great memories, great times and a great show.
Kurt also informs you with some great Songwriters Searches. Classic songs linked by great Songwriters..