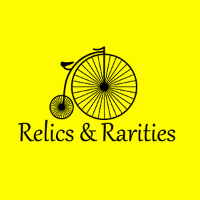 "Relics And Rarities" with Dave The Rave
50's and 60's hits and obscure tunes from Dave The Rave
There are plenty of "oldies but goodies" shows on the radio that like to countdown the hits. Dave the Rave's Relics and Rarities Show doesn't count down anything. Most of the tunes played on Dave's show are not focused on the same repetitive oldies that placed in the Top 20. Dave combines the cool hits with many songs that never, although could have and probably should have hit the Top 40. Dave is giving these great tunes the second chance they never received.
Dave is not simply trying to play obscure music simply for the sake of being obscure. Quite the opposite! Dave the Rave is giving credit to music that deserves a chance to be heard. The 45's that simply fell through the cracks and will leave you scratching your heads in disbelief that what you just heard never became a Top 40 hit.
Dave the Rave has spent countless hours searching for these hit sounding 45's that never entered into the Top 40 but had the sound potential to have done so. The show is very diverse in the music that it features. You will hear soul, surf, garage, British Invasion, girl groups, doowop, rockabilly, teeners, and instrumentals.
Relics and Rarities loves to feature local hits, record store rarities, lost B-sides and original versions of Top 40 hits. Many of the 45's in his collection is the kind of music that you would be paying thousand's of dollars for in an old record store if you could even find the record.