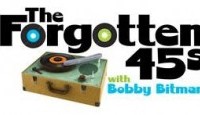 For several years, Bobby Bitman has hosted The Forgotten 45sonline and gained a loyal following. Now, with five decades in the broadcast industry, Bobby has brought The Forgotten 45s to radio!
The Forgotten 45s is two hours of those 'oh, wow' oldies, PAMS jingles, classic radio commercials and more. Bobby plays forgotten songs by remembered artists like The Beatles, The Rolling Stones, The Supremes, The Beach Boys and more, plus the original 45 versions of the greatest hits of all time.
Listeners can email or call in their requests to the Forgotten 45s toll-free hotline at 1-888-920-4545 and hear their favorites played back in that big, booming, classic Top 40 sound.