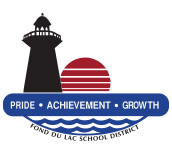 During the COVID-19 pandemic the Fond du Lac Back to School program is asking for monetary donations this year instead of supplies.    Registration for the program will also undergo a significant change as families will no longer be
required to sign up in person. Given all the concern about social distancing and reducing the possibility of exposure to the COVID-19 virus, registration will be conducted online. Starting on July 10, the application will be made available at
www.backtoschoolfdl.org by simply clicking on Registration. When registering,  parents/guardians will need to provide the names, birth dates, school name(s) and grade for
each child in the family. To further streamline the registration process, eligible families will not need to provide proof of residence and proof of household income. In order to review
applications and prepare for Distribution Day on August 22, online registration will close on August 2.